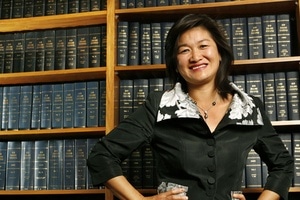 Mai Chen's ubiquitous hyper-energetic performance across legal, commercial, academic and political platforms continued during 2018, although her ranking has slipped somewhat.
Running her Beltway-style public law firm handling public policy and legislative issues, she has continued to help set the agenda for legal and legislative thinking as well as regularly writing or commenting upon legal and political matters, as well as playing an active role in academic and Asian/New Zealand business affairs.
She continues to hit headlines, including her comments regarding the fact that diversity in the boardroom is 'stuck', following the release of a 250 page audit of New Zealand boardrooms released by the Superdiversity Institute of Law, Policy and Business, which she chairs.
She also championed the #MyIdentity campaign developed by the institute.
She has also been involved in a range of profile cases, including appearing in the prosecution against Auckland-based money remitter Qian DuoDuo Limited who was prosecuted by the Department of Internal Affairs (DIA) under anti-money laundering legislation in respect of a $95 million remittance from China, as well as appearing for a Dominos Pizza franchise in a prosecution by the Labour Department.
Return to the Power List
ReFuel with the top law news weekly that's fun to read