The art of story-telling is a key to bonding with your audience but to achieve that via Twitter is something of a higher art, as barrister Jamie Susskind has demonstrated with a series of tweets that have garnered growing popularity over nothing less than a commuter's sneeze.
You read right. Susskind, son of legal futurologist Richard Susskind, the man who wrote 'The End of Lawyers?', was writing about a nightly sneezer on his London commute.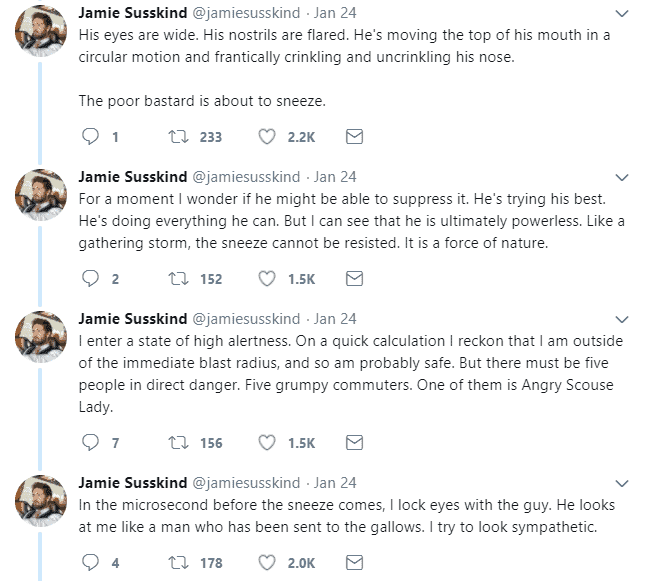 Susskind, who once made the LegalCheek list of hottest barristers, continued with ablomb – and mounting terror as the sneezer reaches sneezer-pitch –

And then, it happens . . (are you fully involved? Understand the characters, the stage is set . . ?)
And then . .
And so it went . . beautifully 'captured' by a barrister with the traditional barristorial flare and gusto . . particularly from one practiced in employment and related issues.
But there was a health warning too.  Suppressing sneezes, Susskind reminds us, can create even bigger issues –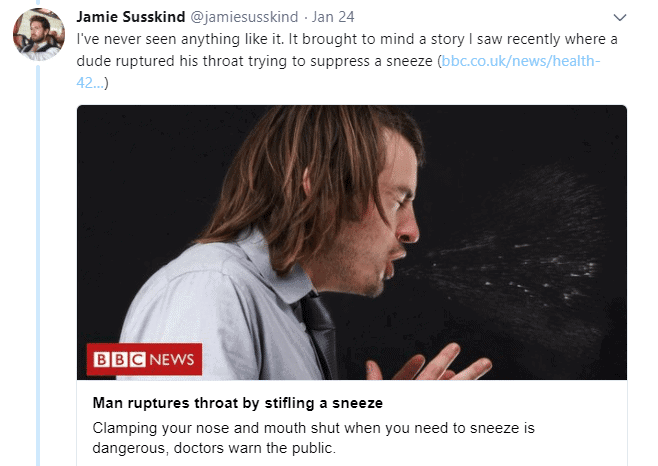 Scoring tens of thousands of likes and a plethora of sneeze-story-related retweets and comments, the Susskind sneeze series is a winner.