Sponsored Content
Tommy Whyer* 

Marketing and advertising for legal services is one of the most competitive niches that there is. The money that can be made from a solid marketing plan is immense. Many lawyers are not taking advantage of many forms of marketing and are costing their firm thousands of dollars per year.
Thinking Marketing Will Take Care of Itself
Some lawyers think that if they win a lot of cases that the media will pick up on it and do the marketing for them. This does work in the cases of a high profile nature but most lawyers do not take high profile case after high profile case.
Just because exposure happens does not guarantee that clients will follow as many lawyers have numerous articles written about them and it doesn't garner one new client. Make sure to interact whether it be a comment on an article online or on a blog post on the lawyer's website. Personal interaction is a great marketing tool that can help humanize a firm rather than it is viewed as a large corporation or business with no time for the common person.
No Online Presence At All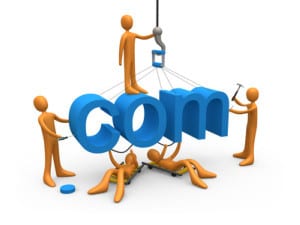 Not having an online presence can cripple a law firm as many people use search engines to look for prospective lawyers.
A lack of website makes potential clients uneasy because if a law firm doesn't have a website then it looks unprofessional as even lawn service companies have websites. In certain ultracompetitive areas of law like personal injury, not having a website can end up costing a firm a huge case. The Pay Per Click in these areas of law can go anywhere from $10 to $500 depending on phrasing and destination URL.
Doing PPC For The Sake Of Doing It
PPC can be an effective way to advertise a law firm but it can also be costly. Lawyer is actually the 6th most expensive PPC term so having someone who knows how to do PPC well is essential. It isn't advised for the lawyer to do it themselves as there are companies who specialize in just lawyer PPC. A small law firm shouldn't compete with a large law firm on the most competitive terms as it can lead them into financial crisis.
Doing extensive research to see what the competition is doing then differentiating strategy can help even out the playing field. Don't be afraid to adapt a strategy if it is not working as each click costs money and odds are the first try at PPC unless done with a professional could be less than ideal.
Revealing Rates Online
Sometimes lawyers feel like they have the best prices for the services that they provide and reveal their rates for different types of cases.
This can corner a lawyer into one set price regardless of the twists and turns a case can take. Giving flat rates on a website can be devastating especially if the case or service provided takes more time than previously estimated. Leave the pricing discussions for the phone or an in person meeting so more details about the case can be gathered so a fair pricing can occur.
Not Having A Blog
Many people look to legal blogs as a type of advice when they need help. Not having a blog could cost a law firm clients on a consistent basis. Articles as simple as "How Much Child Support Do I Have to Pay" could help a parent who is about to file for divorce make a final decision about how to proceed with a divorce.
This parent will more than likely reach out to the lawyer whose blog post help inform them. A simple 500 to 750 word article could produce leads that could make the lawyer thousands of dollars and possibly retain this client for the long term.
Having a blog can also help a lawyer rank high for words and phrases on search engines. Climbing up the search rankings can have an immediate impact on a lawyers practice. Being on the first page of Google for a certain legal phrase is important because to be honest many people do not go past the first page when looking to buy something or even hire a lawyer.
Rejecting Pro Bono Work
Of course no lawyers want to do 100 percent pro bono work but taking on a case or two can do wonders for marketing. It is seen each day that a lawyer offers their services pro bono to a case that has garnered local or national attention.
Not only does this get the name of the lawyer on the news or in the papers, but it also can gain a positive brand image for the lawyer or firm. Success during this case can help catapult a lawyer's name quickly. A failure during this case is usually still seen in a positive light as the lawyer was trying to help someone for free.
Pro bono cases can be great marketing for those who do not have a large marketing budget or are competing with a large firm that they cannot outspend. There are some risks though but the rewards heavily outweigh the risks.
Not Doing Any SEO
Having a website is great but not ranking for any keywords that could lead back to a website is irresponsible. SEO for lawyers is competitive but also necessary to climb up the search engine rankings. This could be the place to hire outside help as SEO algorithms are constantly changing. The other factor is that doing a good job at SEO can be a full time job and with the schedule of a lawyer, this can be overwhelming.
There is no question that marketing for a law firm is difficult and expensive.
The rewards are worth the trouble as a sound marketing plan can increase a firm's profits nearly immediately. It is not throwing in the towel by bringing in outside help in the form of a company or marketing individual.
In fact, this can save money in the long run as expenses can add up with a faulty PPC or SEO plan. No improvement will happen just by doing the same old thing as far as marketing, change the plan and possibly change the destiny of a firm or individual.
Author Bio: Tommy Wyher is a Tampa, Florida native and freelance writer who graduated from UNC Chapel Hill. Tommy has done business consulting for various large corporations. In his free time he likes to hang out with his two huskies, Reptar and Nala.