The upcoming euthanasia law change referendum has lead to charges that New Zealanders are confused about what they are voting on with rival groups trying different tactics to persuade kiwis on how to vote.
As the debate over the law change heats up, it is clear many people are unaware of what they are being asked to vote upon, just as new billboards (as below) are being put in place about the country, asking New Zealanders to become properly informed about the End of Life Choice Act.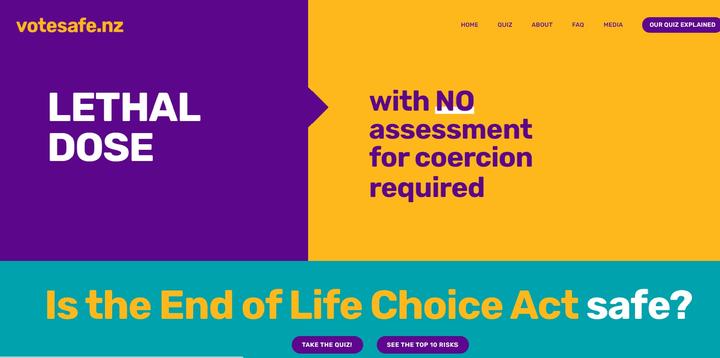 Photo: votesafe.nz
RNZ report that an anti-euthanasia group launched an online quiz asking people what they thought the law allowed and reported that about half of the 130,000 respondents thought it was about turning off life support, which is common practice already.
VoteSafe's Campaign Manager Henoch Kloosterboer was concerned with the survey results.
"There's a lot of confusion out there from people thinking that it's around legal options which already exist such as turning off life support, do not resuscitate orders, the ability to refuse treatment, and palliative medication that may hasten death. But we're not actually voting on that, we're voting on the End of Life Choice Act."
Henoch Kloosterboer
His quiz also includes questions that have concerned ACT leader David Seymour and others. Seymour sponsored the law change.
Catherine Marks, who was the lawyer for euthanasia campaigner Lecretia Seales, and helped draft the bill, says it is deceiving and fear mongering.
"The concern was that there is actually quite a lot of false information being put out that is creating fear and concern around the Act that is not actually factually correct in terms of what is in the Act."
Marks is part of a group called Yes for Compassion, which has recently launched a rival website with the confusingly similar name of VoteSafe and also features orange and purple coloured boxes, and seeks to put voters at ease about the law's provisions.
The only thing the two rival groups agree on is to stress that voluntary euthanasia, or assisted dying as proponents prefer to call it, has already passed through Parliament, and all its provisions set in stone and published online.
According to VoteSafe's quiz, 51 percent of respondents didn't know that the referendum is binding and the average overall score was four out of 10.
"All the numbers are showing us that Kiwis are really confused about what this is or isn't about and essentially most Kiwis definitely do need to do more research and be more informed in order to truly use their democratic ability to cast an informed vote," Kloosterboer said.
But is VoteSafe misleading?
It says there is no assessment for coercion required, and doctors don't have to ask patients if they have been pressured.
But the law says once a request is made, the doctor must quote "do their best to ensure the person exercises their wish free from pressure".
"Essentially the doctors are meant to do their best, but from a legal perspective that's a really low bar, simply to do one's best to ensure someone is free of coercion or pressure or bullying, especially when we know that one tenth of our elderly are being the victims of elder abuse in New Zealand and four out of five of that abuse is inflicted by family members."
Source: RNZ
ReFuel with the top law news weekly that's fun to read