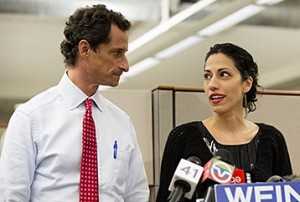 No-one fell from grace harder than former New York governor Eliot Spitzer, but there again – maybe it could be Anthony Weiner, the repeat-sexter.  As the headlines were hogged by reports of Weiner, the New York mayoral hopeful, and his generally creepy sexting habit, Eliot Spitzer's own comeback was inevitably played out as well.
Spitzer's own campaign and comeback, as New York controller, are undoubtedly threatened by the latest Weiner scandal.  So what does Spitzer have to say about the chances of him also 'repeat offending'?
A reporter asked Spitzer the question, asking whether he had slept with prostitutes since resigning as New York governor.  The answer:  "Absolutely not".


But then, Anthony Weiner purported to have put his habit behind him as well, and look what happened.
As the Washington Post says, Weiner hasn't copped felonies, but rather "online tastelessness, creepiness and lying to people. In a story that forced Weiner to hold a press conference Tuesday afternoon, TheDirty.com reported that Weiner in July 2012 — more than a year after he resigned from Congress for inappropriate Internet behavior — had an X-rated online relationship with a sexting partner.

That was around the time of a very nice and happy People magazine profile of Weiner. In the piece, he is quoted as saying this: "I really do feel like a very, very different person." Also this: "I've had enormous regrets about what I put Huma through, how I let my constituents down. But it's not like I sit all day replaying it in my mind. With a baby, it is pretty easy to put things into perspective," said Weiner, referring to his son Jordan.

Rachel Maddow, addressing Weiner's timeline on her MSNBC show last night, concluded: "We learned today that the reason he didn`t have to replay it in his mind is that he was still doing it. That was the same month that he was engaging in this latest online exploit. He was telling the public, 'I really do feel like a very, very different person,' while in private he was continuing with these same activity that caused him to resign from Congress." Indeed, Weiner in his press conference conceded that his most recent naughty Web offense took place after the People interview.

Reading through the piece, it is unclear whether People posed this question to Weiner: When was the last time you sent illicit messages on the Web? Yet what's clear is that People jumped the gun on the redemptive look-back piece, a specialty of the glossy mag biz.

Not that the truth of Weiner's sustained online misbehavior was easy to suss out. His most recent sex-chats, after all, weren't obtainable via Freedom of Information Act requests, and it took the wholesome public-interest-oriented efforts of TheDirty.com for them to surface.

The Weiner-covering media has doubtless learned its lesson, however. From here on out, every interview with the candidate must feature this question: "When's the last time you Web-sex-chatted?" Simple as that. Reporters who fail to take that step will be shirking their public duty, given what we know about Anthony Weiner. Perhaps those persistent questions will help solve the matter of whether this guy should still be a candidate for public office. At least one prominent outlet has already decided.