We read daily of Donald Trump, Ted Cruz and Hillary Clinton's runoffs in the current presidential campaign, but there are lawyers involved here and there too – including Cruz, a former lawyer himself.
LawFuel has provided a quick-fire list of some of the attorneys most prominent in the current runoff.
Let's start with the biggest lawyer of all, shall we?
Bill Clinton – Starting Out on The Trail for Hillary
Bill Clinton offered a personal endorsement of his wife's presidential campaign this month, telling voters that Hillary Clinton's plans offer the best chance for the country to achieve economic prosperity and a secure future.
The Trump Lawyer with the Tough Attitude
Michael Cohen is Donald Trump's lawyer and strategist who has hit the headlines on several occasions, including a report that he threatened Daily Beast reporters, see here.
GOP Convention Chaos Advice From a Top Lawyer
Benjamin Ginsberg is the former counsel to the presidential campaigns of Mitt Romney and George W. Bush and has outlined the potential chaos at the GOP convention. Read more here
The Lawyer Claiming Hillary Clinton Will Be Indicted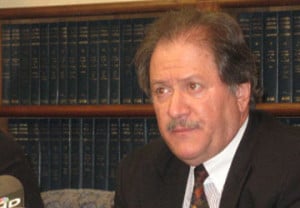 Joe DiGenova, a Republican U.S. attorney appointed by President Reagan, said Clinton's "biggest problem right now" is the open FBI investigation into the contents of her private emails, which you can read here.
Eric Holder, the Former Attorney General
Former Attorney General Eric Holder has provided his endorsement of Hillary Clinton, which provides an advantage among African-American voters in her quest for the Democratic presidential nomination.
The Lawyer For Whom the Presidential Election has Already Begun
The Justice Department has brought on a well-respected election law professor to oversee its voting section and lead the department's battles over voting rights during this presidential election year, as the Washington Post reports.
The Skadden Arps Lawyer With Some Advice for Ted Cruz
Kenneth Gross, a campaign finance lawyer for Skadden Arps and a former Federal Election Commission general counsel, said that if a "candidate borrows funds to finance his campaign and puts those funds in his campaign, the candidate must disclose the original source of those funds," reports the WSJ.
The Jeb Bush Lawyer Targetting Trump
The legal mind behind Jeb Bush's super PAC is Charles Spies and he recently fired another shot against Donald Trump regarding an alleged advertising error – but that could be just the beginning. See more here.
Bernie Sanders' Campaign Lawyer To Enter the Fray
A prominent Manhattan attorney serving as New York counsel to Vermont Sen. Bernie Sanders' presidential campaign will seek to unseat Assemblywoman Deborah Glick, a veteran Greenwich Village Democrat, as Observer News reports.