This week Chief Justice Helen Winkelmann issued new interim guidance authorising the wearing of culturally-significant taonga as part of business attire for counsel appearing in all proceedings in all courts.
And Law Society President Tiana Epati was one to quickly cement the occasion with a LinkedIn snap to show how – well, – snappy the new attire looks.
The new guidance will stand until the 2009 Court Etiquette Guidelines, which define "business attire", are updated. It applies to lawyers, judges, court staff, stakeholders and others who perform official roles in the courts.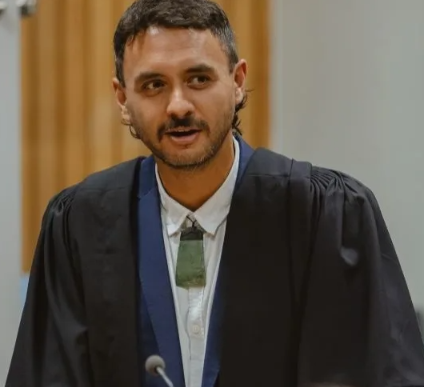 "As with neckties, taonga are to be worn with a shirt that has the top button done up," the new guidance says. "The overriding requirement is that conduct and attire demonstrate respect for the Court and those participating in its proceedings."
The push came from young Gisborne lawyer Mana Taumaunu, who works at Burnard Bull and who was prompted by his uncle fighting parliamentary standing orders to be allowed to wear his Māori taonga rather than a European necktie in Parliament.
"I saw him asserting his Māori identity and mana in Parliament," Taumaunu tells Newsroom. "And I thought, why can't we do that? A court room is similar in the sense we have all these old traditions and symbols from Britain. But Aotearoa, New Zealand, is not a British country. We are part of Polynesia and we should reflect it."
His uncle Rawiri Waititi expressed his pride in the nephew's accomplishment. "I'm really proud of our people as they make these brave and courageous decisions, to make changes in places that don't reflect the cultural identity and character of Aotearoa," he told Newsroom.
"They are paving the way for the next generation of lawyers and judges and clerks to express their own identity.
"We're instilling hope and belief in our people to feel comfortable in who they are, in whatever environment they choose to work and occupy."
ReFuel with the top law news weekly that's fun to read