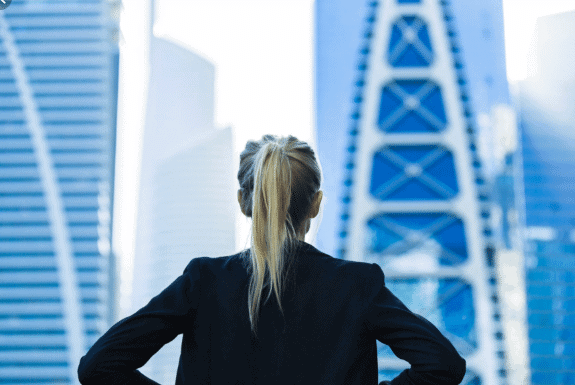 The question of 'where are the women?" in the law profession is heard regularly, particularly as female law graduate numbers continue to climb. Now a former recruiter has developed a successful program for women re-entering the legal workforce.
But for former recruiter Lisa Unwin (left) the question becomes more urgent for women who once were urgently sought as graduates, but post-babies and after stepping off the corporate ladder, they struggle to get an interview with the very firms that once pursued them.
Unwin set up a group to help address the issue. She's Back was specifically designed to help women step back onto their career ladder after taking a break.
More specifically, from a lawyers' perspective, she set up an organization that would develop a 'returnship program' across its 15 City member law firms including Orricks, Reed Smith, Hogan Lovells, Macfarlanes, CMS, Slaughter & May and others.
Reignite Academy was designed to let women re-enter the legal market by providing a six month training and coaching program, which has succeeded with over 90 per cent of the participants receiving permanent roles at the end of the program.
"Don't let a non-linear path put you off . . " Lisa Unwin
The Academy runs programs twice a year, stating – "as a collaboration between the Academy and participating member firms.  Member firms identify opportunities where they need to plug their talent gaps and successful candidates are provided with a six month period of paid training, coaching and work experience. "
Writing about the Unwin initiatives in 'Forbes', contributor Joy Burnford sought out some of the key steps law firms should take when considering handling the return to work of a woman.
Five tips for law firms
Listen to the story of a returner's career: that kink in the road of their career, the likelihood is that there's a reason behind it. Don't let a non-linear career path put you off.
Forget using 'Post-Qualified Experience' years to assess where to bring someone in. Think instead about what level of work they will be doing.
Get involved. It's a people business. The most successful returners have leaders who want them to succeed and who are prepared to put skin in the game. Which means their time.
Celebrate the difference. Older than average? Yes. Bringing a wealth of social networks? Yes. Having a number of years' experience within and outside of the law? Yes. Offering different perspectives? Yes. Not your average associate.
Plan for it to be a success. Set milestones, agree expectations, define success, agree how work will be allocated and provide them with a buddy. Success does not happen by accident.
There are also tips from Unwin for the 'Returners' –
5 Tips for 'Returners'
Five tips for returners
Never say: "I used to be." If you're a Cambridge University educated, magic circle trained employment lawyer, flaunt it. And make sure that experience is prominent on your CV. Don't waste space talking about every voluntary role you've ever had.
Leap before you look–put yourself out there, don't wait until everything is ready, every journey starts with a first step.
Play the long game with your career: think about where you want to be in five years' time and make sure your next move is one that moves you in that direction.
Use your network: the people you trained with, old colleagues, old clients – many of them will be in senior positions now and happy to help.
Prepare the home team: helping your children to become more independent is never a bad thing. Enlist support from your partner (if you have one); if you're going to be doing less around the house, they're going to need to do more.
The success of the Unwin-inspired efforts to have talented women re-enter the workforce is a further opportunity for both firms and returners to utilise top talent in a way that serves both the women and the best interests of the firms too.