By Ingrid Fredeen* – American Airlines, The Coca-Cola Co., Humana, Macy's and Ford. All among the best-known brands in the world, each a stalwart of American business. All of them are among the most transgender-inclusive companies in the country according to the Workplace Equality Program at the Human Rights Campaign (HRC), an advocacy group for lesbian, gay, bisexual and transgender Americans.
While the legal and regulatory environment has been slow to progress, organizations haven't stood idly by; rather, many have acted voluntarily by adopting policies which provide job protection and benefits to employees on the basis of gender identity.
According to the HRC, non-discrimination policies at two-thirds of Fortune 500 companies include gender identity. In 2002, it was only three percent. One third of those companies offer trans-inclusive healthcare benefits, up from zero in 2002.
The reasons for this progressive shift are complex, but it's no coincidence transgender issues have surged into media and entertainment. High profile figures like Caitlyn Jenner and Chelsea Manning have been instrumental in bringing public awareness to transgender issues.
Likewise, in May 2014Time magazine featured trans actress Laverne Cox on its cover. In late January, Jeffrey Tambor won a Screen Actor's Guild award for his transgender role in the acclaimed Amazon series Transparent.
Transgender Treatment: What Not To Do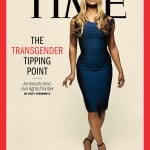 Despite little movement on the federal legislative front, some enforcement agencies aren't waiting. Since 2012, the Equal Employment Opportunities Commission (EEOC) has focused enforcement activities on advocating for coverage "of lesbian, gay, bisexual and transgender individuals under Title VII's sex discrimination provisions."
Last month, the EEOC landed a victory against a Minnesota-based financial services company on behalf of a transgender worker. In that case, the transgender employee accused the company of name-calling, refusing to change her name on company records and denying her access to the women's restroom.
Although it didn't admit any wrongdoing, the company issued an apology and agreed to pay $115,000 to settle the discrimination claims the EEOC brought against in on the employee's behalf.
The case marks the EEOC's continued success advocating for transgender employees; deliberately refusing to refer to a transgender employee by his or her preferred name, making hostile comments to the employee, and denying the employee access to a bathroom that corresponds to his or her gender can amount to sex discrimination. This and other important settlements in recent months further supports the EEOC's position, that even though gender identity is not a protected characteristic under federal law, the law itself should and can be interpreted to afford such protections.
"This settlement underscores EEOC's commitment to securing the rights of transgender individuals under Title VII in the federal courts," EEOC General Counsel P. David Lopez said
Creating a Culture of Inclusion for Transgender Employees
The reality is that in today's legal and enforcement environment, employers who have refused to adopt broader policies must reconsider their position or face the possibility of legal action and reputational harm.
These organizations, however, can look to peer organizations who were pioneers for guidance and practical suggestions about how best to create a truly inclusive environment. Companies looking to create more inclusive policies can begin by starting an internal dialog about the ROI of inclusion and its positive impact on culture, engagement, and productivity.
Cigna is one such case. The health insurance company worked hard over the years to create a culture of acceptance and inclusion for transgender employees and for those transitioning. It not only has a nondiscrimination policy for transgender individuals, but it also has a "transition team" to help employees and clients adjust to an employee who transitions.
A renewed policy can only go so far. Creating a truly inclusive workplace takes time and commitment at all levels. Senior leaders need to be trained about the issues facing transgender individuals in the workplace. Leading by example and ensuring the use of gender inclusive language must be done regardless of personal beliefs or bias to the contrary.
Employees must also be informed about workplace policies and expectations. Employees and managers alike should be disavowed of any misconception that they have a right to ask intrusive questions as this could be seen as workplace harassment.
Managers should be prepared to handle the difficult challenges that can arise as an organization evolves and becomes more inclusive—no doubt managers will be presented with questions from employees who are ill-informed or biased. Without training and leadership, these managers will struggle to find the right words.
Author Bio:
Ingrid Fredeen J.D., is Vice President, Online Learning Content, has been specializing in ethics and legal compliance training for more than ten years. She has been the principal design and content developer for NAVEX Global's online training course initiatives utilizing her more than 15 years of specialization in employment law and legal compliance.This article originally appeared in the NAVEX blog.