Big Bucks From Big Law = Toxic Work Environment Say, Junior Lawyers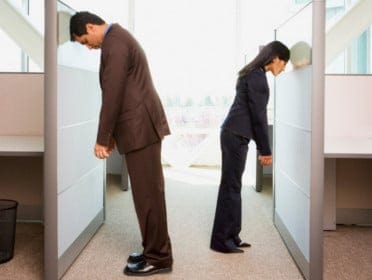 Tom Bowker – 'Toxic' work environments in law firms have been the subject of a contentious letter written by junior UK lawyers, following young laywers struck off after working in difficult conditions.
The letter was sent to the UK Junior Solicitors Regulation Authority (SRA) demanding clarification on the protection available to junior lawyers who are subject to 'toxic' work environments that the authors say contributed to the issues faced by the lawyers.
The 24/7 work culture of many Big Law firms, particularly Magic Circle firms and in particular the US law firms who have a strong presence in the London legal market, is something that has drawn increasing attention from millennial lawyers in recent times.
Despite the vaunted change in focus for many millenials – seeking a stronger interest in people rather than money – there continues to be a strong desire by many to earn the big bucks from big law.
The pay is exceptional among the large firms with newly qualified lawyers working for US firms in London able to start on £140,000 in some cases. Even typical Magic Circle salaries start at around the starting salary is £85,000 mark, which is more than three times the national average UK wage.
While many young lawyers are now seeking more flexible hours and a better work-life balance, inspired by the gig economy, the fact remains that the work-harder culture of the large law firms is something many will struggle to deal with.
The Lawyer recently reported on a lawyer making partner in a big US law firm and leaving after a year, while tales abound of extraordinary demands placed upon younger lawyers to meet billing targets, complete assignments and an almost 24/7 culture that continues to dominate their working lives.
The recent issue involving the hours worked by young lawyers was described in the letter, which was published by the Law Society's Junior Lawyers Division (JLD), and referred to concerns around rulings from the High Court and Solicitors Disciplinary Tribunal that struck off junior solicitors who were subsequently found to be working under difficult conditions.
The letter's author, JLD chair Amy Clowrey, (right) requested practical support for junior lawyers facing difficult work conditions and reuested that the SRA do something to deal with 'toxic' work environments.
The question is just what the SRA can do about the situation.
Allen & Overy general counsel Andrew Clark told Legal Business: 'The SRA's approach is welcome. We have our own code of conduct and policies and as a large firm these are behaviours that our clients also want to audit. I would expect these to be in line with regulations issued by the SRA on behaviours.'
The situation arose following the case of two lawyers who were barred from their profession where one of them had backdated letters to create the impression of work handled in a negligence claim while the other involved allegations of false billing, misappropriating and misleading regulators.
'Our primary concern is the most vulnerable lawyers in our profession, by their role and experience, are not currently being adequately protected by the SRA's approach to enforcement or by any practical measures,' Clowrey wrote.
'Sanctions [similar to James's and Scott's] are likely to deter individuals, particularly junior lawyers who are the most vulnerable in our profession, to disclose wrongdoing (either by their employer or by themselves) for fear that they will be struck off, landed with a heavy costs order and receive negative publicity.'
The issues for Big Law and junior lawyers will doubtless continue, as the hazards – and pay checks – of working for large firms continues to create both risks and rewards for the young lawyers subjected to that environment.