Allen & Overy announced the resignation of its global managing partner, Gareth Price, amid discussions about a potential merger with New York-based law firm Shearman & Sterling – as well as a drop in equity earnings for its partners.
Price, who had served as managing partner for over three years and practiced at the firm for 30 years, stepped down due to personal reasons, according to Allen & Overy.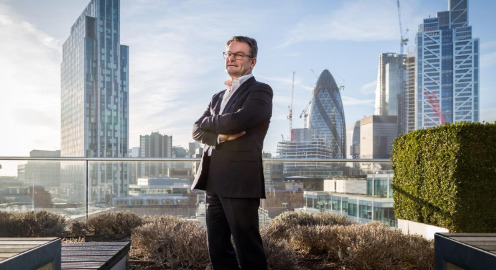 The firm's latest financial results and announcement did not specify who would replace Price. The leadership team at Allen & Overy also includes senior partner Wim Dejonghe (pictured above)
Allen & Overy and Shearman & Sterling had announced their proposed merger in May, with the aim of creating a combined firm of approximately 3,900 lawyers in 49 offices and a global revenue of around $3.4 billion.
Initially planned for a mid-July vote, the partner vote on the merger is now expected to take place in October, as stated by an Allen & Overy spokesperson. The merger requires approval from 75 percent of the partnership at each firm.
Dejonghe, Allen & Overy's senior partner, acknowledged Price's contributions and leadership in the firm's energy and infrastructure practice and praised his role in the negotiations with Shearman & Sterling.
Despite challenges posed by the global economic slowdown, inflationary pressure, and geopolitical uncertainties, Dejonghe expressed optimism about opportunities in the energy transition, technology transformation, and private capital work.
In terms of financial performance, Allen & Overy reported a 7 percent growth in client revenue to £2.1 billion ($2.5 billion) for the financial year ending April 30. However, pre-tax profits experienced a slight decline to £892 million ($1.076 billion) from £900 million ($1.23 billion) the previous year, and average profit per equity partner decreased to £1.82 million ($2.2 million) from £1.95 million ($2.66 million).
The Financial Times reported this week of 'headwinds' that will make matters more difficult for biglaw firms working in an inflationary climate and picking up costs that cannot always be directed to clients.
Falling Partner Pay
The firm attributed the decline in partner pay to challenging market conditions and a high inflationary environment.
It did not provide further details on the specific market conditions affecting City law firms but acknowledged the impact of lower merger and acquisition activity.
To remain competitive, large English commercial law firms, including Allen & Overy, have raised starting salaries for junior lawyers in an attempt to match the higher pay offered by American law firms in the City.
Allen & Overy is known to offer newly qualified lawyers salaries of £125,000, similar to its magic circle peers. However, American law firms still provide significantly higher salaries, with graduates receiving up to £179,000.
As we recently reported in LawFuel, firms like Akin Gump have previously boosted their rates with exchange rate benefits giving some major pay hikes to their NQ salaries.
Allen & Overy credited its growth in client revenue to global trends, particularly in the energy and technology sectors, as well as private equity investment. Wi
th over 3,000 lawyers across 46 international offices, the firm aims to join the highest tier of international practices through its planned merger with Shearman & Sterling, one of Wall Street's oldest firms.
The sudden departure of Gareth Price, who played a key role in leading the merger from the English side, raises concerns about the progress of the merger and its partner approval vote.
The firm has not provided any additional information regarding the potential implications of Price's resignation on the merger process.
Law Jobs In New Zealand