LegalTech Millions Grow Law Software Company
Kiwi LawTech innovator LawVu aims to share in the $40 billion global legal tech market with the $15 million investment made by Wellington-based venture capital group Movac as it expands its use of AI in its platform.
LawVu, a pioneering workspace platform for in-house legal teams, has been on a growth path and the latest funding will help propel the company into the US, UK and Australian markets.
The Tauranga-based software company generates over 90 percent of its income offshore but is committed to retaining its New Zealand home base.
LawFuel recently reported on its link with Microsoft to use the tech giant's AI tools to further build-out its in-house law platform.
We also reported on $20 million the company received from US investors last year as it continues to attract major funding in the legaltech space.
The rapidly growing legal tech market, which is projected to surpass $40 billion USD by the year 2030. These additional funding will be instrumental in accelerating the startup's research and development (R&D) efforts in the field of artificial intelligence (AI) to further streamline operations, fostering collaboration, and enhancing efficiency for in-house legal professionals.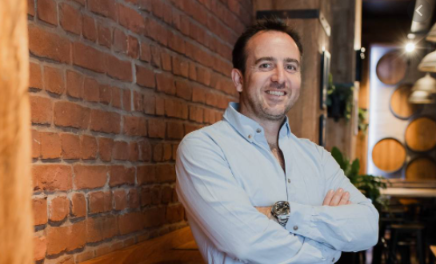 Sam Kidd, CEO and the co-founder of LawVu, (right) said the Movac investment shows confidence in the company's mission and will accelerate its expansion.
"LawVu was born out of a critical gap in the industry where organizations' legal functions worked across fragmented systems like email and word documents. Our legal workspace solves this by consolidating their work in one place. The strong customer appetite we've received for our unique offering validates the untapped opportunity in the global market—to help superpower every in-house legal team around the world," he said.
In-House Legal Teams
According to LawVu's 2023 In-house Legal Technology Report, 61 percent of in-house legal teams expend over one hour each day navigating disparate systems to obtain a comprehensive view of their work and prioritize tasks. This underscores the need for consolidated technology stacks tailored specifically to the needs of legal teams.
Jason Graham, General Partner at Movac, expressed optimism regarding LawVu's potential, saying, "LawVu has continued to go from strength to strength, with incredible potential for growth and disruption in the legal sector and its traditional way of working.
"Our depth of experience investing in iconic Kiwi startups such as Vertical SaaS stars Vend, Timely, and Unleashed meant we knew LawVu was a natural fit within our Growth Fund portfolio. We look forward to our partnership with Sam and the team as they continue to pave the way as a global category leader, representing New Zealand on the world stage."
In addition to securing substantial investment, LawVu has garnered international acclaim by emerging as a prominent player in the IDC MarketScape's Worldwide Enterprise Legal Management (ELM) Software 2023 Vendor Assessment. This recognition coincides with the appointment of David Lancelot as Chief Legal Officer, who brings over two decades of experience in building, leading, and transforming legal functions across various industries, including Magex.com, QVC UK, and eBay Classifieds.
About 65 percent of LawVu's 125+ employees are located in New Zealand, and the startup has recently invested in Wellington offices as part of its national growth strategy to attract and hire local talent.
According to the search results, the LegalTech market is growing at a significant rate both in the US and globally.
The LegalTech demand is estimated to grow at 8.9 percent CAGR between 2022 and 2032 in comparison with 5.0 percent CAGR during the historic period of 2017 to 2021 globally (source: Future Market Insights).
In 2021, the legal tech market generated revenues of 27.6 billion U.S. dollars worldwide, with the market forecast to grow at a compound annual growth rate (CAGR) of over four percent (source: Statista).
The global legal technology market size was valued at USD 23.45 billion in 2022 and is expected to grow at a compound annual growth rate (CAGR) of 9.1 percent from 2023 to 2030 (source: Grand View Research).
With this latest injection of funds, LawVu's total funding to date reaches approximately $55 million NZD, with participation from existing investors, AirTree Ventures and Insight Partners, in previous funding rounds. The company boasts a diverse customer base spanning 15 countries, which includes renowned organizations such as PwC, Telstra, Estee Lauder, and Linktree.